With months to go until she was ready to sell her home, Theressa still reached out to The Reynolds Team to get a headstart on preparing her house for market. Finding her new residence in Tennesee was a priority, and until she found the perfect one, selling her current home would be on hold. But, that didn't mean getting repairs done, repainting, decluttering, and staging had to wait! In fact, working on these things over time is ideal to save money and get top dollar!
Even though our initial meeting was in September, Realtor Partner, Jesses Griswold, guided Theressa along through the process and stayed in contact during the next few months to check on her progress. With his leadership, Theressa's home was looking it best and was ready to go on March 4th!
In just 5 days after going live, 35 showings were scheduled, and a whopping 5 offers came in!!! Ultimately, we SOLD Theressa's home for OVER ASKING PRICE!!! We are honored to have gotten the chance to help this amazing client move to Tennesee to be closer to her family. She even left an AMAZING review on her experience working with our entire team—make sure to check it out!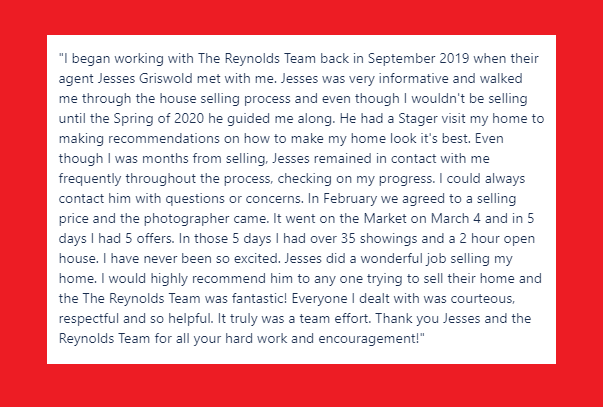 It's a HOT MARKET and it is never too early to take advantage of it! With our team of experts, you too can WIN BIG on the sale of your home. We have OVER 10,600 qualified buyers in our Buyers in Waiting database and it is growing every day!!! Our team has exactly what sellers want, and that is Buyers! Give us a Call to get Priority Access at 703-297-4251.
—
Sell Your Home Virtually GUARANTEED or We'll Buy It!* No Need to Leave the House, No Showings, Everything done 100% Virtually. Give us a Call at 703-297-4251. Click HERE to know more.