In a panic, Justin and Beatrice came to The Reynolds Team with less than 2 months to buy their first home—DURING the COVID-19 crisis! That's a lot all at once! Realtor Partner, Darnell Edwards, assured them that despite all that was happening, he would find the home they needed. We even took careful time to make sure they understood the entire process of purchasing their home so they would never be out of the loop, even with the time crunch. When the final signing day came on their first-ever home, we drove 2 hours to get the documents signed, so Beatrice, who was 40 weeks pregnant, wouldn't have to go far. We successfully secured the home they wanted in the time they needed with as little stress as possible! Read Justin and Beatrice's review on Zillow!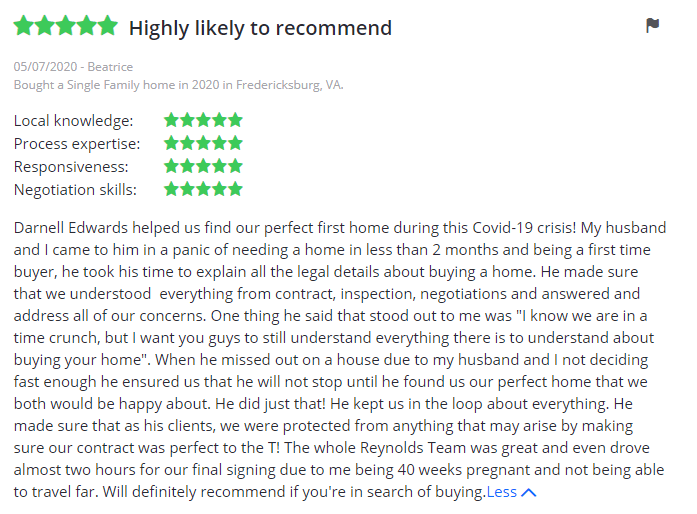 ✘ STOP PAYING RENT! Stop paying your Landlord's Mortgage! Get your FREE REPORT that reveals How Easy it is to Own Your Own Home, Call Us at 1-800-881-6629 ID# 7001 (Talk to NO Agent) or DM or Call Us directly at 703-297-4251. Start packing and get ready to move!
—
Buy Your Home Virtually and if you don't LOVE it, you can LEAVE it!* If you don't LOVE the home you purchase within the first YEAR, we'll sell it for you for free or we'll buy it ourselves. Call us at 703-297-4251 or click HERE for more information.