Mother Always Said You Should…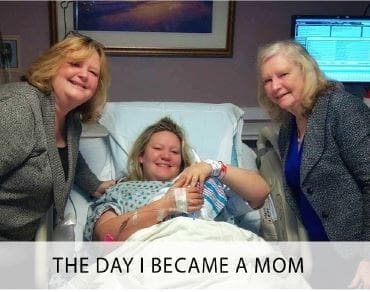 My Mom used to tell me repeatedly to do this and do that, not to do this and not to do that.  ALL, I recall, very valuable advice. Looking back on it, I can say she was, and still is, a very wise woman. 
Time reveals, in fact, just about every caring Mother is a Wise Woman.  I can see why we carve out a special day each year to acknowledge Mothers.  So here is a shout out to all Mom's – Happy Mothers Day!! 
Mother's Day has changed for me over the past 4 years. I have always celebrated my mom, but the first mother's day when I was a mom myself was VERY special. I finally understood what it is like to be a mom myself. I finally understood the love that she feels for me, as I felt the same for my daughter. For those moms reading this, do you remember that feeling? There is truly nothing like it!
I know that Mother's Day can be very hard for those who no longer have their moms with them. For ALL those whose Mom is no longer with us, may you remember the best about them. In addition to that, there are also many who never knew their Mom due to unfortunate circumstances. I bet someone played that role in their life and they, too, deserve a Happy Mother's Day!
Regardless, we can celebrate this Mothers Day knowing Moms both here and no longer here are special in more ways than we can count. 
Especially the Military Moms who are in the hospital seeking treatment or Mom's / Wives sitting right now by their husband's hospital bed.
You may recall that my team and I are on a mission to raise $30,000 for the Fisher House Foundation this year to help the in their work of creating a home Away From Home for our Military and their families while they are receiving medical treatment.

Right now, there are families who travel long distances to seek medical treatment for their loved ones. The Moms seeking treatment or Moms juggling kids and their husbands in treatment are mostly likely NOT thinking about their special day this month. They are just simply being "Mom" and doing what real loving Mom does. God bless them for it.
This is where you can help…
As you probably know, The Fisher House Foundation is best known for a network of comfort homes where military and veteran's families can stay at no cost while a loved one is receiving a treatment. We are thankful to support such a wonderful program. It does great work to help heal and help save military and veteran family out-of-pocket costs for lodging and transportation.
YOUR REFFERALS REALLY DO HELP OUR MILITARY AND THEIR FAMILIES…
Who do you know considering buying or selling a home you could refer to my real estate sales team? 
Not only will they benefit from our award-winning service, you can rest assured a very worthy cause benefits as well!
I want to make it easy to refer your friends, neighbors, associates or family members considering making a move, so here are your options:
You can go to

www.RTRReferralAwards.com

and enter their contact info online or forward the link to who you know considering a move.
Of course you can always call me direct as well at

703-297-4251

.
Remember our promises to buyers and sellers!
Home Sellers Receive this guarantee:  Your Home Sold at Your Price or We'll Buy It!*
Home Buyers Receive this guarantee:  Guaranteed 100% Satisfaction With Your Home Purchase or We'll Buy It Back!*
Life moves fast for some and we are eager to make the Home Selling and Buying experience a smooth rewarding one.  Over the last two decades of helping thousands of families sell their home and/or buy another, we have met some wonderful, loving, caring people.  People like you!  So your referrals, those you know considering a move, that we help – you can rest assured that not only will they get the award-winning service we are known for, but that a portion of the income we receive will go toward a very worthy cause. 
My Mom told me to give all I could, no matter what I was doing.  Thanks Mom for that bit of advice!  Many years later, I get to repeat it here and do all I can to help you, your referrals and try and help The Fisher House Foundation do good work, helping military and veterans' families stay at no cost at Fisher House ' Home' while a loved one is receiving a treatment.
Thank you in advance for the referrals!
With all our appreciation,
Sarah Reynolds Oji and Debbie Reynolds
The Reynolds Team