Chris and Avery cast a very wide net into their initial home search in Maryland. As first-time home buyers unfamiliar with the process, they depended on leadership from Realtor Partner, Jenny Nalley, to take charge in educating them and securing the home they wanted!
Our experience and understanding of the dynamic Maryland market was a valuable asset. Chris and Avery learned that homes in-between Baltimore and Washington, DC are always in high demand due to the unique layout of two major cities within a short distance of each other. Because of this, it was paramount to have someone on their side that was able to negotiate with more than just money based on what the seller valued the most.
In this case, we determined that the sellers of the home Chris and Avery wanted to buy were motivated by time rather than money. So with multiple offers already on the home for much higher dollar amounts than what Chris and Avery had to offer, our tighter terms and shorter timelines for the inspection and closing sealed the deal!
When you work with The Reynolds Team, you get backed by an entire team of professionals who know how to work dynamic markets and negotiate on your behalf, so you have the BEST chance of winning the home of your dreams. Chris and Avery are now the proud owners of their first home in Catonsville, MD, and couldn't be happier with their experience! Make sure to check out their AMAZING 5-Star Review: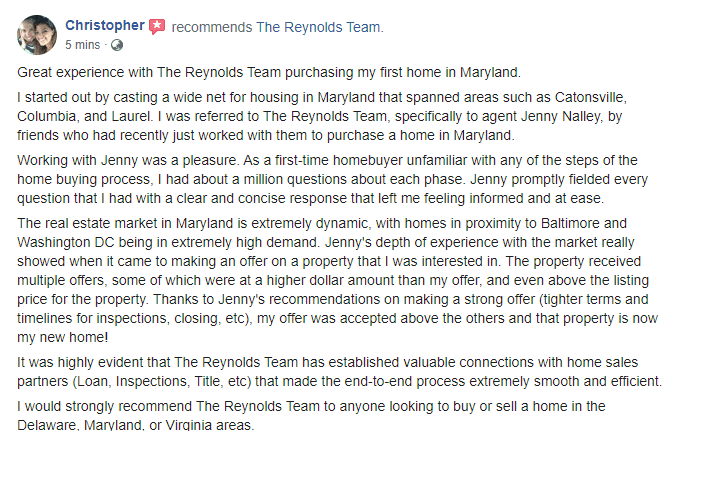 ☞ CALL US TODAY AND BEAT OUT OTHER BUYERS TO HOT NEW LISTINGS! Call Us at 703-297-4251.
—
Buy Your Home Virtually and if you don't LOVE it, you can LEAVE it!* If you don't LOVE the home you purchase within the first YEAR, we'll sell it for you for free or we'll buy it ourselves. Call us at 703-297-4251. For more information, click HERE.